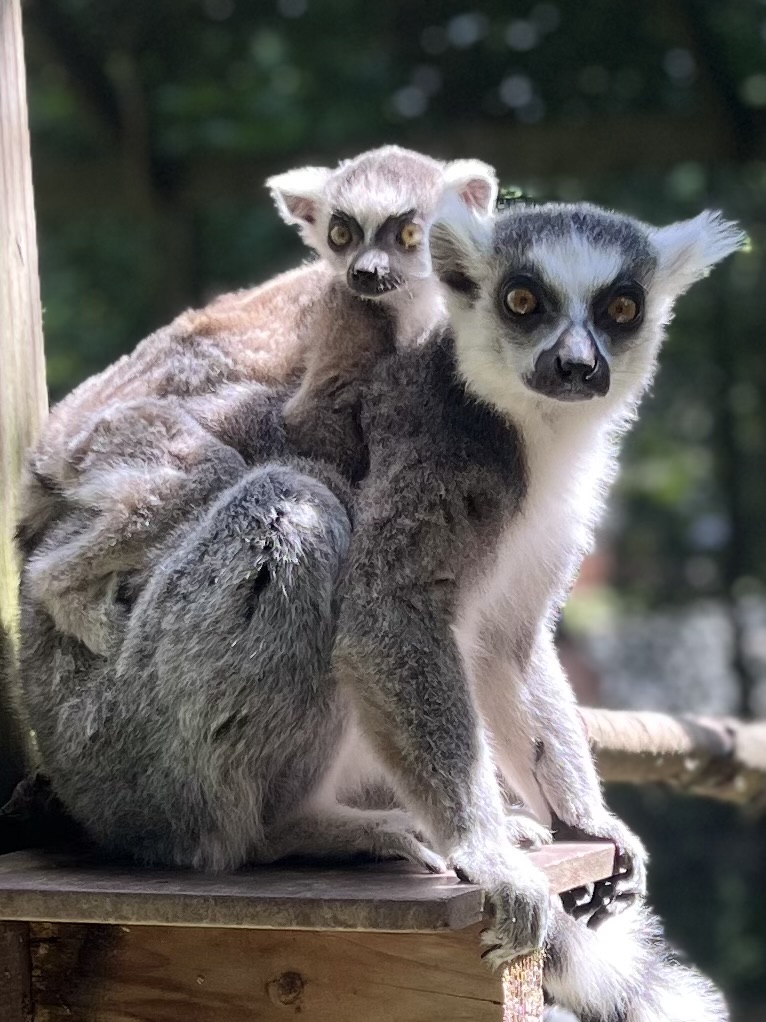 Show you care. 
Your symbolic adoption puts you in partnership with the professionals at Catoctin Wildlife Preserve.
When you "adopt" one of the Preserve's animals, you contribute to its care and feeding for one full year. In addition to veterinary services, exhibit upgrades, enrichment puzzles and wellness programs, the Catoctin Wildlife Preserve spends more than $200,000 a year for food – from hay to hamburger to specialty diets.
You adoption donation also supports important education and conservation programs at the Catoctin Wildlife Preserve.
View our Adopt-an-Animal flyer below and choose from one of the many levels of support and one of the wonderful animals available for adoption.
Adoptable Animals:
American Alligator, Camel, Galapagos Tortoise, Hyacinth Macaw, Indian Peafowl, King Cobra, Meerkat, Olive Baboon, Pygmy, Goat, Sloth, Wolves, Zebra
Adopt-an-Animal Parents
Catoctin Wildlife Preserve gratefully acknowledges the support of these 2023 donors: 
AFRICA level ($1000 or more):

Crew W. adopted a Wolf
Jadon F. adopted a Wolf
PACK level ($250):

Fairytale Brides- Leah W. adopted a Zebra
Girl Scout Troop #37144 adopted a Wolf
Tracy 'Nana' adoped a Zebra
Sunrise Senior Living of Frederick adopted a Indian Peafowl
Stephen L. adopted a Wolf
Dana E. adopted a Sloth
LEOPARD level ($100):

Jenna D. adopted a Goat
Gavin R. adopted a Sloth
Anna R. adopted a Meerkat
Cliff and Chase M. adopted a Wolf
Naomi S. adopted a Pygmy Goat
Serena R. adopted a Wolf
Ashley T. adopted a Galapagos Tortoise

Bridget and Josie B. adopted an Olive Baboon

Patience and Hope L. adopted a Zebra


Serena R. adopted a Zebra

Gavin R. adopted a Meerkat

Kaily S. adopted a Wolf

Carley S. adopted a Sloth

Madison I. adopted a Sloth

Jaxson I. adopted a King Cobra

Anita R. adopted a Galapagos Tortoise

AJ C. adopted a Sloth
Gail E. adopted a Galapagos Tortoise
Special Adoptions:

Mrs. Keath adopted, the Bongo
Robert L. adopted

 "Magia," the Jaguar

James H. adopted

 "Magia," the Jaguar

Key Brewing Company adopted

the Fossa and Jaguar

Robert L. adopted "Kato" the White Lion
Ellie and Oliver M. adopted "Kato" the White Lion
Percy adopted "Kato" the White Lion
Lincoln H. adopted "Kato" the White Lion
MONKEY level ($50):

Rory adopted a Alligator
Summer H. adopted a Hyacinth Macaw
Eric B. and Ashley B. adopted a Meerkat
Master Elliot H. adopted a Tortoise
Violet P. adopted a Sloth
Angelina R. adopted a Meerkat
Christian I. adopted a Meerkat
Aubrey C. adopted a Zebra

Nicole S. adopted a Wolf

Nikhil P. adopted a King Cobra

Callan T. adopted "Magia," the Jaguar

Bridid T. adopted a Dwarf Goat

Ellie and Oliver M. adopted

 "Magia," the Jaguar

Jaxson I adopted a Wolf

Willow W. adopted a Wolf
Lachlan W. adopted a Wolf
CUB level ($25):

Grace H. adopted a Meerkat
Grace H. adopted a Galapagos Tortoise
Greyson K. adopted a Zebra
Krystle adopted a Sloth
Anna L. adopted a Olive Baboon
Liz M. adopted a King Cobra
Lela M. adopted a Zebra
Cameron T. adopted a Sloth
Everett F. adopted a Zebra
Giana P. adopted a Meerkat
Stevie A. adopted a Sloth
Giana P. adopted a Meercat
Faith S. adopted an American Alligator
Eli S. adopted a King Cobra
Bodhi H. adopted a Sloth
Graham H. adopted a Sloth
Riku C. adopted a Camel
Gwendolyn C. adopted a Dwarf Goat
Madelyn E. adopted a Dwarf Goat
Declan C. adopted a Sloth
Eli E. adopted an American Alligator
Gavin C. adopted a Wolf
Key Brewing Company adopted an American Alligator
Key Brewing Company adopted a Zebra
Key Brewing Company adopted a Galapagos Tortoise
Key Brewing Company adopted a Sloth
Key Brewing Company adopted a Wolf
Key Brewing Company adopted a Indian Peafowl
Key Brewing Company adopted a Hyacinth Macaw
Key Brewing Company adopted a Meerkat
Key Brewing Company adopted a King Cobra
Key Brewing Company adopted a Pygmy Goat
Key Brewing Company adopted a Camel
Key Brewing Company adopted a Olive Baboon
Alison C. adopted a Hyacinth Macaw