Get Close at Catoctin Wildlife Preserve
The best learning and the strongest memories are achieved through doing, not just looking. With that in mind, Catoctin Wildlife Preserve developed interactive animal presentations.
Some of our most popular features are our Animal Programs and Encounters; times when you might get to touch an exotic animal or learn more about it from the staff members who care for it.
We also offer photo opportunities with some of our Animal Ambass-zoo-dors after each stage presentation! Please make time during your visit to catch these unique opportunities to get close.
Active Zones – Open Weekends, weather permitting
Safari Rides – From Memorial Day to Labor Day, Safari Rides run weather permitting and require a minimum of 10 riders for each departure
Camel Rides – Daily, from Memorial Day to Labor Day
Feathered Feeding Encounter – Daily, from Memorial Day to Labor Day
Safari Café – Closed for the season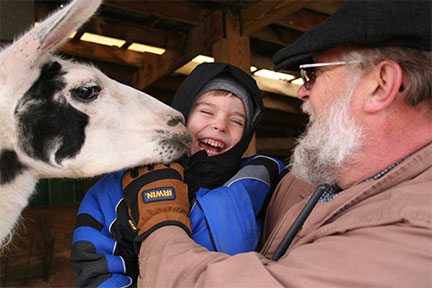 Interactive Zones
Get close, in unexpected ways! Various Interactive Zones allow you to meet animal Ambass-Zoo-Dors safely, and learn more about their habitats, food, behaviors and more.
Interactive Zones often change with the seasons, and can include feeding opportunities with everything from Llamas, African Pygmy Goats and Fallow Deer, to exciting Keeper Talks.
Check this link for our current offerings.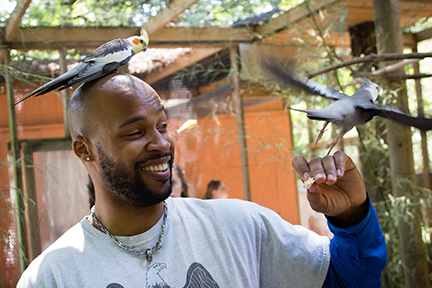 Parakeet Feedings
Come check out the "Keet landing" exhibit. This aviary allows you to get up close and personal with beautiful parakeets! Come in and feed the birds. This exhibit is open from Memorial-Labor day. Please contact the zoo office to confirm feeding times.
All tours are subject to availability and do not include park admission. Park admission is required. Prices are subject to change without notice. Prices listed are per person and do not include tax. Animal interactions may vary.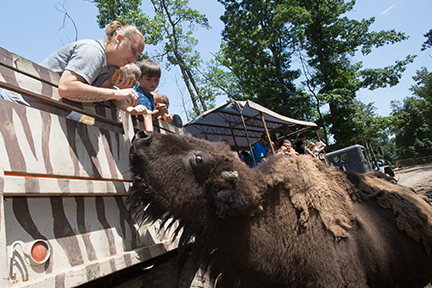 Global Wildlife Safari Ride
The Catoctin Wildlife Preserve is the only park in the mid-Atlantic area with a guided, ride-through Safari Ride. Bounce along in an army surplus troop carrier called a "deuce and a half." Your adventure ride winds through four different paddocks of exotic animals, encompassing twenty-five wooded acres.
Safari Rides are an optional add-on to your General Admission ticket.
Discover more about this upgraded adventure, including height restrictions, availability and featured animals.
Kick off the unofficial start of summer with a day of adventuring. Don't worry about a "beach body." Our Sun Bears certainly don't.  🙂 Enjoy a full schedule of Interactive Zone experiences, Safari Rides, Camel Rides, Keeper Talks and More. …
read more