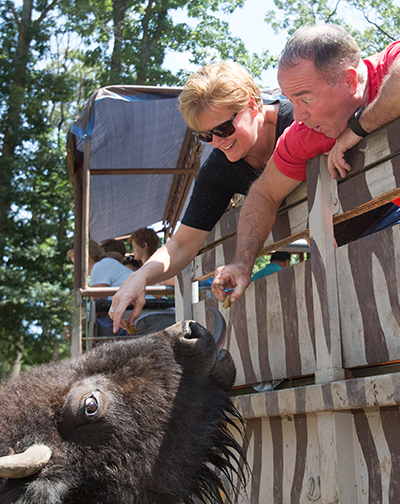 Global Wildlife Safari Ride thrills
guests with up-close visits
The Catoctin Wildlife Preserve is unusual among the mid-Atlantic area zoos as the only one with an escorted truck (ride through) safari.
Your one hour adventure ride winds through four different paddocks of exotic animals, encompassing twenty five wooded acres. Along the way you will encounter furred and feathered friends  including giant birds like Ostrich and Emu. Hoofed mammals from six continents including African Zebra, North American bison, Asian and African antelope, European deer, Eurasian wild sheep, and South American Llama may also pay a visit as well as unusual cattle, donkey and goat breeds from around the world.  They're all there for the fun, feeding and photographing!
For many riders, half the fun is bouncing along in the army surplus troop carrier called a deuce and a half.  It lumbers through and over mud, rocks, water and stumps with the dexterity of mahout's elephant on shikari in India. It essentially makes its own roads and is not for the faint of heart.
Safari Rides are an optional ADD-ON to your General Admission ticket.
Price: ($15 per person)
In addition to your regular park admission ticket, a Safari Ride is an optional upgrade. For best availability, we recommend arriving early and purchasing your Safari ticket with your admission. You will have a seat reserved for the next available ride departure.
This is a fun, feeding and "foto" opportunity. All riders must be at least 36″ tall and children under 16 must be accompanied by an adult. (Sorry, but FuFeFo is not suitable for guests with mobility issues. For safety reasons, babies and guests under 36″ tall will not be allowed on the ride.)
Limited tickets are available each day for Safari Rides. Subject to availability and weather conditions.
"My wife and I have been to zoo's all over the country and they have animals here big city zoo's do not have!"

- Matthew B
"I hadn't been to this zoo since I was a child and boy had it changed! It is so much bigger, more animals and a safari ride!! (We had) awesome tour guides on our safari ride. Very knowledgeable about the animals. We will definitely return!"

- Cathy D
"I wasn't expecting this zoo to be as big as it was and to have as large and diverse a collection of animals as they had. If you're looking for something fun and educational to do in the Catoctin area, this is an excellent option."

- Mason S
Kick off the unofficial start of summer with a day of adventuring. Don't worry about a "beach body." Our Sun Bears certainly don't.  🙂 Enjoy a full schedule of Interactive Zone experiences, Safari Rides, Camel Rides, Keeper Talks and More. …
read more