Get Up Close and Personal with our Animals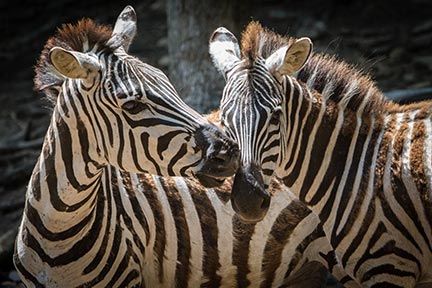 Africa
Ready to cross the Sahara Desert? Hop on a sturdy camel and get on your way! In your nomadic journey across hot desert sands. You might even see a meandering pack of dusty camels, lolling about and looking for trouble. Camels from Arabia and the Middle East, like the locals in our exhibit, only have one hump. Regardless of locale, all of their distinctive humps are full of fat, not water like many people believe.
You'll also see playful Zebra, graceful Antelope, awkward Ostrich and rugged Mouflon Sheep.
Latin and South America
That bright streak of color that just fluttered and squawked? That's one of 30 different species of our vibrant Amazon Parrots, welcoming you to the Latin America area. These smart parrots can imitate speech, which often makes them popular pets. Our parrots love eating all sorts of wild berries, nuts, and even leaves—they're not picky! And our two-toed sloths, well… they're always down for some hangout time.
As you tread under the Amazonian Rainforest canopy, beware of the head honcho in this town. Our Jaguar likes to keep tabs on everyone who visits her side of the Latin America exhibit. Jaguars are the only Big Cat in the Americas, so she's used to preferential treatment. Jaguars are surprisingly strong hunters, and can even break through tough reptile armor, so watch out!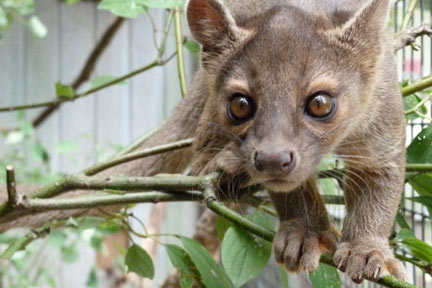 Madagascar
Be on the lookout for Fossa, the cat-like carnivorous mammal that likes to dine on lemurs in the wild. Catoctin has successfully bred and raised several fossa since 2016 and the new exhibit shows off their exceptional climbing skills.
The island of Madagascar is the only place in the world where you can naturally see the many species of Lemurs. You are likely to find our Black and White Ruffed Lemurs basking in the warm sun or snacking on a juicy piece of fruit. Be sure to catch these furry folks in a sprint! These acrobatic lemurs often leap to get from one place to another.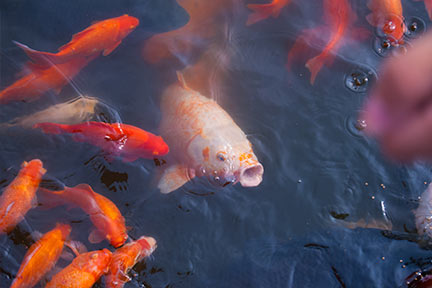 Eurasia
The Giant Reptiles house is full of some of the world's largest species of cold-blooded beauties… pythons as thick as your leg, boa constrictors and tortoises are here to discover, if you're brave enough to go inside. If you're looking for attractions of the feline persuasion, our Amur Leopard and pair of Eurasian Lynx won't disappoint. For something lighter, be sure to visit the pygmy goats, alpaca, Jacobs sheep and young donkeys.
Before you leave, don't forget to feed the beautiful, painted koi fish in the Japanese style Koi garden – they love giving wet kisses!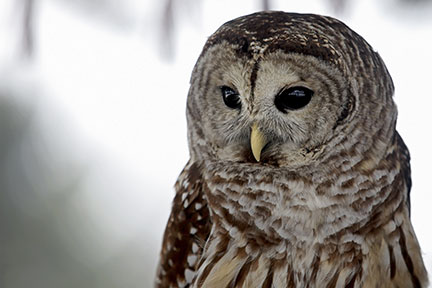 North America
Who knew that our own backyard could be so wild?! Catoctin's North American section is home to some of our newest and most popular exhibits. Start by looking past the Safari Ride loading area to see if the Bison are at the watering hole. Then watch your footing as you walk through Alligator Bayou. And the Barred Owls are, well, head turning.
Finally, quietly enter Wolf Woods, home to prowling White Timber Wolves. This pack seems to have two speeds: "On" and "Off." So you will either see them patrolling the exhibit's edges or sleeping in a cool hollow.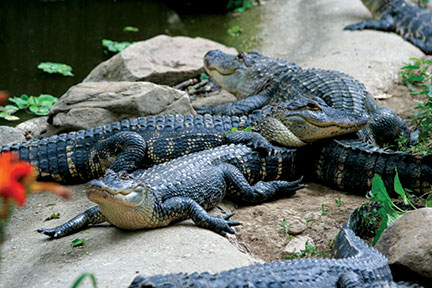 Alligator Bayou
Home to over a dozen American Alligators and plenty of native turtles, the bayou offers a moss-covered glimpse into a southern swamp. Catoctin Wildlife Preserve recreates a section of a Louisiana Bayou for our alligators, complete with Cajun music, Spanish moss and over a dozen alligators.
When you arrive, check your map and Keeper Talk schedule for times when you can see our Alligators being fed! It's the perfect chance to ask the Keeper about what they eat, how they hibernate and why they haven't changed in thousands of year. Just try to be quick so you can get a "snap" shot. 🙂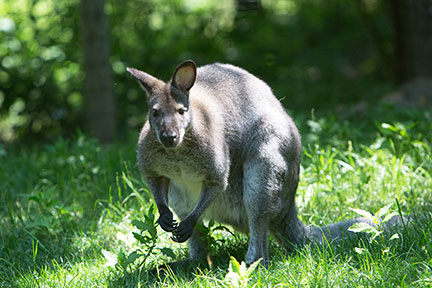 Australia
Meet the bouncing Wallabies from "a land down under" – but watch out for the slithery Blue-tongued skinks during your expedition. They love sneaking around and sticking their little noses where they don't belong, often looking for bugs. If they stick out their tongues at you, know that it's a bluff warning to predators and they're just trying to scare you away from their grubs.
You may find a pair of giant Emu eyes following you as you explore the outback. They're full of curiosity, and trouble! Exotic black swan, Dingos, Kookaburra and chatty Cockatoos make this part of Catoctin a wildlife symphony.
This is also where you'll find our walk-in Parakeet exhibit. Check the schedule for open times, when you can enter and feed these curious and chirpy birds.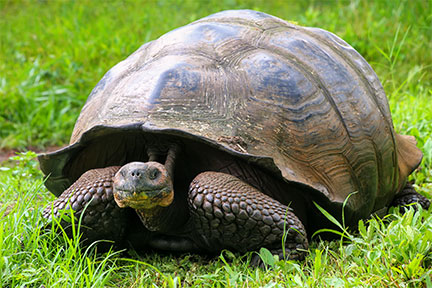 WORLD ISLANDS
Travel through the islands and monkey around with the Baboons. Take in the tropical pace of life with our Giant Tortoises. When you hear the bees buzzing, take a look around and you might spy a petite Sun Bear looking for a paw full of honey! These beautiful but formidable bears don't hibernate at all, so they can eat, nap, and reproduce year-round. Sun Bears have quite the reputation as a fighter—they have very loose skin under all that fur, which allows them to wriggle around if bitten in a fight to counter any attack immediately. They're known to put up a fight even against a tiger or jaguar!
Around the corner are the more docile Monarch Butterflies. They would be so excited to see you they may give you some butterfly kisses! Watch the showcase of the many animals at Catoctin and maybe even join in on the fun!
"I wasn't expecting this zoo to be as big as it was and to have as large and diverse a collection of animals as they had. If you're looking for something fun and educational to do in the Catoctin area, this is an excellent option."
Mason S
"My wife and I have been to zoo's all over the country and they have animals here big city zoo's do not have!"
Matthew B
"Best up-close & personal with the animals zoo around."
Tabetha E.
"We love it here! Started coming in 2003 with my girls… now visit with my grand daughters. Wonderful people, animals and preserve."
Kimberly T.
"Quiet and not overly busy like city zoos – very "in nature" feel."
Lee Anne J.
"I hadn't been to this zoo since I was a child, and boy had it changed! It is so much bigger, more animals and a safari ride!! (We had) awesome tour guides on our safari ride. Very knowledgeable about the animals. We will definitely return!"
Cathy D