The Wolf Woods is biggest of the all new habitats on the list of improvements and renovations for this year. Because it is an ambitious undertaking, the plan is in three phases.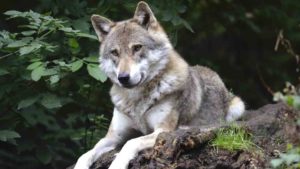 The first phase is the habitat for the wolves. It consists of fencing for the enclosure with safety structures to prevent both digging under or climbing over. This habitat for the wolves will have a shallow pond, artificial overlooks and several trees. We will be adding additional foliage including pine and birch trees as well as assorted native shrubs. The last element of the exhibit is the night shelter. This is a necessity in case of high winds, ice storms, for corralling the pack for health checks and nighttime safety.
Phase two, which is unfunded at this time, includes two visitor viewing pads. One overlooks a wet moated structure with views unobstructed by fencing. The other is a boardwalk structure elevated above the height of the fence offering another unobstructed view.
Phase three, also unfunded at this time, is an educational museum like log cabin, climate controlled, with large glass panes along one wall forming a panoramic view of the wolf habitat.